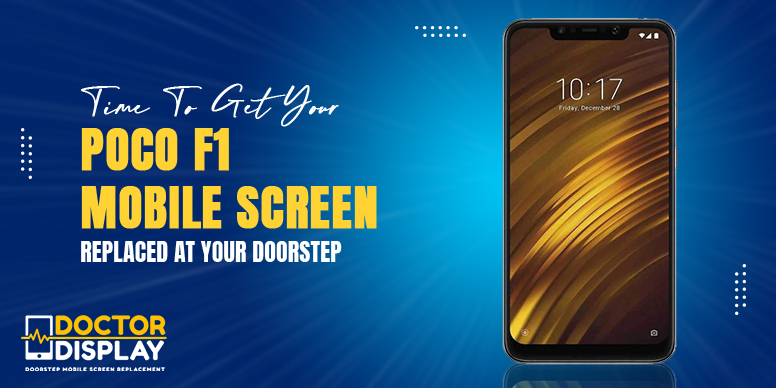 Time To Get Your Poco F1 Mobile Screen Replaced At Your Doorstep With An Affordable Price
Poco F1 is a mobile that has existed in the Indian market ever since August 2018. Poco occurs to be a sub-brand of Xiaomi. If you've unintentionally damaged your mobile screen then don't worry, getting it replaced or repaired is truly a very stress-free process. Read along and we inform you how does much it cost for Poco F1 screen repair.
We have listed two of the safest and most consistent ways for the same purpose below:
The first choice for all your mobile screen repair and replacement services should always be Doctor Display as we are always ready when you need us!
The first and foremost reason being Doctor-Display offers you door-step repairs while you have to visit authorized service centers by yourself. We ensure to provide you quality parts at reasonable prices while service centers may charge you a high amount of money for the same parts! Talking about price, at Doctor Display,
Poco F1 mobile screen replacement price starts from Rs. 2,400 which looks like the best double deal of quality parts and reasonable prices! Doctor Display gives you warranty/ guarantee services as applicable but service centers don't always deliver a guarantee.
Likewise, we do your phone's repair in front of you and at your doorstep unlike service centers someplace you have to leave your device in their hands. This is definitely a great measure to safeguard that Doctor Display has authentic parts of your device and no parts are being exchanged.
Second Option:
The next option for your PocoF1 screen replacement can be to get help from Xiaomi authorized centre:
Xiaomi centres deliver you with original parts of a device but again that comes with a hefty amount of price to pay.
Your Poco F1 screen replacement procedure gets longer as authorized centres request to reach out to them!
As you visit a Xiaomi authorized centre, you will need to wait for at least 6 days to get your Poco F1 screen replacement done.
The price at authorised centres will be around. 6000.
Any additional issues with the phone may take a longer period of time and you will have to be without your device!